The Look Challenge: A Sad Jar of Atoms
Wendy S. Russo tagged me today for the Look Challenge, which I thought was very lovely of her. The idea is that you open your manuscript, search for the word "look" and post the paragraphs surrounding it. Mine is below. And I'm passing the challenge to any writers or readers who visit here and feel inclined to have a "look" at their own work. If you do, please link back to this so I can read yours. Thanks. And thank you, Wendy! These are the opening paragraphs of A Sad Jar of Atoms, which is a short prequel to Girl Under Glass.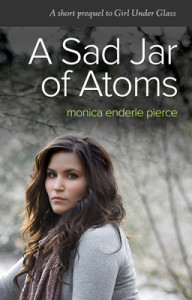 Elder Cyrus faced me, and he was too close. "I can stop this, Rachel." Elder Cyrus always came too close. "Consent to my desires, and I will turn their sympathies in your favor." I swallowed and stared past his shoulder to avoid his watery, green gaze. We stood upon a wooden scaffold, and below the wide platform, the community had gathered to point, mutter, and condemn me. He slid his spidery fingers down my arm and away. "Your choice." He moved to speak with Elder Jonas and Elder Mary as they mounted the scaffold.
Choice? When did I ever have a choice? I looked from face to face in the crowd. Isaac and Rebecca, my neighbors, avoided my gaze. They knew. They'd seen Cyrus coming and going from my house for months. They couldn't have missed me begging him to stop and crying afterward. I took in all the other familiar faces. There were twisted mouths and furrowed brows.