2014 A to Z Challenge: D is for Dresses
It's Day Four of the A to Z Challenge. What's that some of you may be asking? Well, during the month of April, over 2,000 bloggers are posting daily on topics that correspond to each letter of the alphabet. In my case, my posts all revolve around the research elements that have informed my new historical fantasy, Famine. (Ha! There's that book plug again.)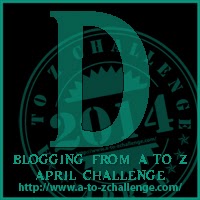 Next up: D is for Dresses
Oh, where to start? If there's one thing that boggles my mind, it's the beauty and madness that went into dresses (and dressing) the early-Edwardian lady. There were tea gowns, day dresses, walking suits, riding habits, dinner dresses, evening gowns. (All worn at different times and, possibly, all within a single day.) The process of dressing for an afternoon stroll involved:
chemise (fell to mid-thigh, but could be longer)
drawers (also to mid-thigh, opening at the crotch -- in case you were wondering)
corset (with attached garters; the drawers and chemise bunched beneath the garters)
stockings (no pantyhose back then)
petticoat (or layers of them if the weather was cold)
corset cover (worn between the corset and the dress to protect both garments)
shirtwaist (aka blouse) and skirt or dress (shirtwaist could be worn beneath the dress)
hat, gloves, shoes
Optional: detachable collar, bust ruffles (to add fullness and hide the line of the corset), vest, jacket (if wearing a walking suit), tie or cravat
The more money, the more layers and evening gowns were opulent, handmade affairs of lace, beads, and silk:
When it comes to Edwardian dressing, I could have drowned in description while writing Famine. Cognizant of that, I chose to apply the frou-frou with a judicious pen. (If you're interested in seeing more, check out my Pinterest page for Famine. Lotsa historical clothing, etc. to be ogled. But, I warn you, it's a black hole.):
Famine called herself Lady Claire Staniak. The name was an irritant, and Bartholomew never employed it. She wore blush-hued silk and lace, sequins and pearls. Her wavy, auburn hair was twisted into elaborate curls and displayed more pearls and silk flowers. Diamonds winked from her ears and twined about her pale throat. Creamy silk stockings bearing golden, hand-embroidered birds and white roses peeped from beneath her gown, and her satin slippers were tied with wide, blush bows. Famine was a beautiful lie from head to toe.

"Bartholomeus." She wrinkled her nose. "You've been rolling with the pigs again."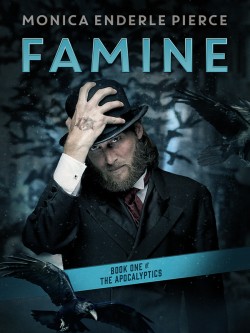 Thanks for stopping by. Please take a few minutes to check out some of the other A to Z bloggers, leave comments, and see what everyone else has to say about D.