2014 A to Z Challenge: F is for Four Horsemen
It's Monday and I'm back on the A to Z Challenge. Primer: During April over 2,000 bloggers are posting daily on topics that correspond to each letter of the alphabet. My posts will revolve around the research elements that have informed my new historical fantasy, Famine.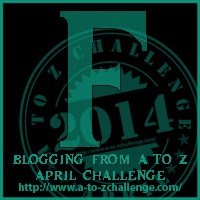 Next up: F is for Four Horsemen (the apocalyptic kind, that is)
While the Book of Revelation describes the release and appearance of the Four Horsemen of the Apocalypse, their reason for existing is not so clear and remains open to interpretation. The general Christian view is that they are harbingers of the coming Tribulation and Judgment. The modern, preterist view is that they represent events that have already happened (particularly war and political unrest under the Roman Empire during and prior to the 1st century AD). They've been equated with modern political movements (red = Communism, white = Catholicism, black = Capitalism, and pale/pale-green = Islam), as well as the angels of the four winds (Gabriel, Michael, Raphael, and Uriel).
In the Book of Revelation only the rider of the pale horse is named -- Death -- and hell follows in his wake. The rider of the black horse is thought to be Famine as he emerges carrying a pair of scales and is followed by a pronouncement: "A quart of wheat for a denarius and three quarts of barley for a denarius; and do not damage the oil and the wine." (This was a high price to pay for staple grains, and oil and wine were luxuries, thus the belief that this rider would bring a scarcity of food.) The red horse's rider is given a "great sword" and is tasked with taking peace from the earth and turning men to kill each other. The rider of the white horse is the subject of the widest range of interpretation. While popular culture has portrayed him as Pestilence, traditional interpretations labeled him Conquest. He carries a bow and wears a crown and "went out conquering and to conquer." However, he's also been equated with Christ (who's seen elsewhere in the Bible astride a white horse and wearing a crown), the Holy Spirit, and "the right path" or Righteousness. Could Conquest be a force for good or evil?
No matter how you interpret the Horsemen and their purpose, it's clear that they are compelling figures who, if nothing else, make you pause and ponder: What happened and what could be coming?
Hopefully not these dudes:
Famine's smile became a snarl. "Your Catcher's first breath will be her last. I'll suck her soul and consume her flesh, and you will be with me forever." She strode to the door, her fiery hair cascading about her shoulders and down to her waist, but she paused before leaving. "God's Apocalyptics cannot stop my reunion with Death, War, and Conquest. The End of Days will come, Bartholomeus. And you will herald it." She stomped from the room, leaving her clothing behind.

Bartholomew picked up Famine's gown. He fingered the fine blush silk, the delicate gold embroidery, and tossed it into the cold, black fireplace ashes. She was right though; he did loath seeing himself reflected in her bloody smile.
Thanks for stopping by. Please take a few minutes to check out some of the other A to Z bloggers, leave comments, and see what other writers have posted for F.