First Comes Famine #32: The Perfect Scar -- Six Sentence Sunday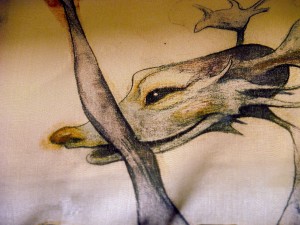 Welcome to another Six Sentence Sunday snippet from First Comes Famine. Thanks to all of you who come by to read and/or comment every week. There are lots of things to do on Sundays, so I appreciate you carving out a little time for my snippets. Last week Claire threatened Bartholomew (or, rather, his tattoo) with his own knife, and we left him contemplating the pleasure he'd derive from breaking her. But can he?
============
But he was created to be the Guardian, and even the miniscule trace of the Catcher's soul in Claire's blood, protected her from his vengeance. Bartholomew could unleash his wrath, but only at her command. And he could not destroy her. Yet.
"Très bien." He proffered his arm and looked at nothing as she perused his scars like a merchant in search of the perfect silk.
============
Thanks for stopping by. Don't forget to head over to the official Six Sentence Sunday list for links to many other six sentence snippets.
============
Note: Today's pic is painted silk. I have no idea what is depicted (maybe an imp?), but it has the right vibe so I ran with it. It kind creeps me out.