Girl Under Glass #11: You Don't Know Me -- Six Sentence Sunday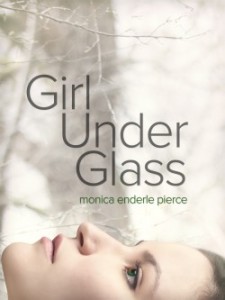 Hi-dee-ho, Sixers! Welcome back for another Six Sentence Sunday installment from Girl Under Glass. I spent all day Saturday formatting the book for its print release, so please forgive me if I'm writing gibberish. I've decided to take you guys through this opening scene with Rachel and the Stranger before moving on to other things. So here we go. Continuing from last week, when Rachel told her visitor that she doesn't think much of his promises. (For anyone new here, the Stranger is an alien soldier who's currently facing two snarling dogs and a woman with a loaded shotgun. You can read from the beginning here.)
Note: The first speaker is the soldier.
========
"You don't know me, yet you threaten my life?"
"You're Ohnenrai." The name twisted from my lips like a curse. He was the first Stranger I'd spoken to in the twelve years since my parents had died in Ohnenrai custody.
Jack and Audie rumbled their agreement.
"You'd shoot me because I was born on another planet?"
========
Thanks for stopping by. I hope you'll cruise over to the official Six Sentence Sunday site and follow the other links to more terrific snippets.
========