Guest Post: Selah J Tay-Song on Writing to Read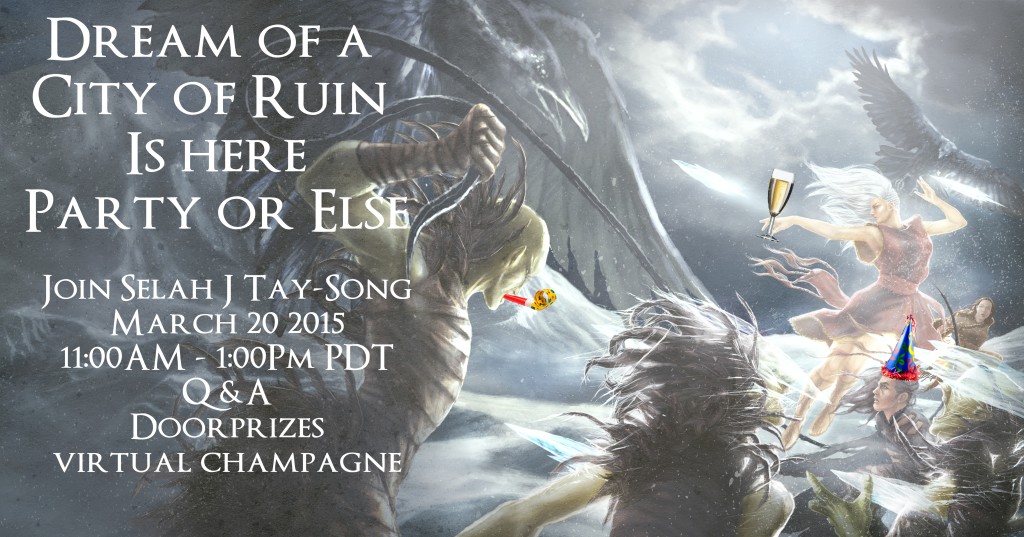 Hi readers and writers! Today's guest post-er is fellow Pacific Northwest author, Selah J Tay-Song.
Selah writes epic fantasy for adults and her first book, Dream of a Vast Blue Cavern, was a Finalist for Chanticleer Books' Cygnus Award for Science Fiction & Fantasy.
Selah's newest book—the second in the Dreams of QaiMaj series—releases today! Please check out Dream of a City of Ruin at Amazon.
Thank you, Selah!
Writers write for a variety of reasons—self-expression, love of language, mental stimulation, money and fame, approval, community, communication.
I write for all those reasons, and one more: I write in order to manifest books I want to read.
I grew up reading books the way most kids eat gummy bears, stuffing my face with them as fast as I could as if someone would come and take away my pleasure. My trips to the library culminated in me walking out with stacks and stacks of books. If a particular book resonated, I read it over and over again.
As a teenager, my mostly broad taste in books migrated to a fixation on epic fantasy. The complexity of epic fantasy, the high stakes, the varied cast of characters, and the sweeping settings all spoke to me.
Part of reading for me was imagining the story playing out differently, mashing together characters who never even meet in the actual book, rearranging events in devious and satisfying ways. Today, there are entire online communities devoted to this act; it's called fan-fiction. But at the time, I didn't really understand that this was my natural response to reading—a desire to engage more actively with the story within my imagination.
Because I had decided at a very young age to be an author, instead of writing fan fiction, I wrote my own fiction. I created my own worlds and characters—not really noticing that they often resembled the settings and characters in the books I was reading. Of course, in my many years of writing since, my stories have taken on their own originality, diverged from the influences which inspired them. But those first steps of re-imagining the stories I was reading were crucial to my development as a writer, in the same way that visual artists copy masterpieces or composers spend long hours learning to play Bach.
Why do some readers feel such a strong need to actively engage with the stories we read? Do all readers do this, or is it the hallmark of a writer?
I don't know the answer to that, but I can talk a little about my experience as a writer. When I read books, no matter how brilliantly written and engaging and moving they are, I always want more. More time with a certain character, more time in a certain place, more of a certain feeling I get when I read.
When I write, however, there are no limitations. I have complete control of my story world, and I can spin events out however I can imagine them.
A fellow writer once asked me if my books were YA. This was before I had a stock answer for that question, so instead of saying, "I write epic fantasy for adults," I said, "I didn't really think about an age group or a genre, I just wrote the book that I wanted to read."
Every time I write a book, I'm trying to write the book I want to read. And every time I fall in love with one of my characters, or get swept away by the emotional resonance of one of my scenes, I'm a little bit closer to that goal.
When you read, do you start reshaping the story in your own imagining? Or do you prefer to be swept away by what is on the page? Let me know in the comments!
Selah J Tay-Song is living proof that if you persevere, you'll catch your dreams. She decided to be an author at the age of six. It took her 25 years to learn how to write a book. Today she is the author of the award-winning Dreams of QaiMaj series, described as magical, poetic and engrossing. When she's not writing epic fantasy, Selah blogs about everything she wished she knew before she wrote her first book. When she's not writing, Selah is stalking the urban river otters that live near her home in the Pacific Northwest.
Follow Selah on the interwebs:
Website: http://www.selahjtaysong.com
Amazon: http://www.amazon.com/Selah-J-Tay-Song/e/B00J43RS68/ref=dp_byline_cont_pop_book_1
Twitter: https://twitter.com/selahjtaysong
Facebook: https://www.facebook.com/selah.taysong
Pinterest: http://www.pinterest.com/selahjtaysong
Goodreads: https://www.goodreads.com/Selahjtaysong
Check out Selah's latest book, Dream of a City of Ruin, available March 20th, 2015! The tale of QaiMaj continues in this gripping sequel to Dream of a Vast Blue Cavern:
War simmering for three thousand years is poised to explode on the surface of QaiMaj. The outcome might free the scattered survivors of an ancient disaster from tyranny, or destroy them forever.
Torn from familiar caverns in the midst of her own war, stranded in the icy lands of Khell, Queen Stasia of Iskalon knows nothing of the conflicts shaping QaiMaj. Her only guides are legends told by a Khell Healer and her own prophetic Dreams of her people suffering in a dark, ruined city. Unwillingly allied with the man who destroyed everything she holds dear, struggling to define her identity in the face of so much loss, stalked and assailed by death-hungry Dhuciri, Stasia sets out across the vast wastelands of QaiMaj to reach the city of her Dreams.
But Svardark, the ruling dynasty on QaiMaj, already knows she has surfaced, and they will stop at nothing to find her in . . .
Dream of a City of Ruin (Dreams of QaiMaj Book II)