Six Sentence Sunday: #12 Bartholomew's Contemplation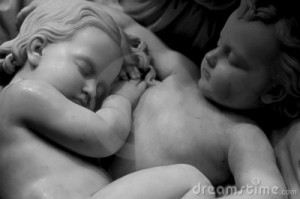 Welcome back for another Six Sentence Sunday post from my paranormal short, Flight.
For those of you who read last week's installment, Mary soon was saved by Matilde's father's intervention in their fight, and I've taken the liberty of skipping ahead an itty-bitty bit.
We now find that Bartholomew has trailed Matilde and her father back to their tenement. Having crept into the room where she is sleeping with her baby brother, he is contemplating the Catcher's interest in possessing the body of this small girl.
If you're unfamiliar with this story, the first installment is found here.
======
He listened to the children breathing, the tiny scritch-scritch of mice feet, and singing, fighting, and fucking from within neighboring rooms. The cold night air whistled through the gaping wallboards, and the sleeping girl shivered and pulled her baby brother closer.
This was madness. Bartholomew closed his eyes and squeezed his temples, then brought his fingers down around his eyes and up to pinch the bridge of his nose. Non, he thought as he shook his head. It was impossible to believe such a small body could hold the Catcher.
======
As always, I encourage you to visit Six Sentence Sunday to find snippets from many more talented writers.