Six Sentence Sunday: Desperation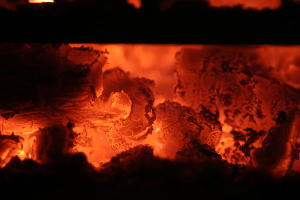 Welcome back, Sixers. I missed you! I spent last week at SiWC in B.C. and am doing a final micro-tension edit on Girl Under Glass for the next few weeks, so I may be MIA some Sundays.
This is the end of the conversation I've been posting over the past month. Rachel and Ehtishem discussing his people's presence on Earth.
------
"Because only desperate people would bring their same suffering to others," I said.
"We were not always this way. But, yes, now we're broken and desperate." Ehtishem Zain laid back on the cot, his hands behind his head, and stared at the ceiling. "Desperation spawns mistakes."
I folded my knees to my chest, rested my cheek on them, and watched the slow pulse of the glowing coals.
------
Please take the time to visit Six Sentence Sunday and all the other fantastic snippets posted this week.