Six Sentence Sunday: First Comes Famine #29 -- Nemesis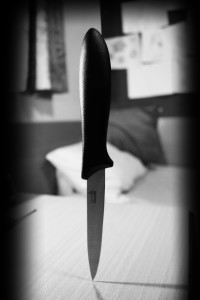 Tap-tap-tap. "Housekeeping."
A few notes. I'm switching from the short story title Flight to the novel title First Comes Famine when posting Bartholomew's story for Six Sentence Sunday.
Starting next month, I'll be alternating between Girl Under Glass and First Comes Famine. Gotta give GUG some love since it'll be released in July. :)
Okay, let's get into it, shall we, Sixers? We rejoin our melancholy aesir at his bedroom window.
============
He considered returning to his abandoned bath. Even old, cold water was better than wearing Claire's stink all night.
Letting the curtain fall, he turned, but his nemesis was awake. She matched his motion. And she held the sheathed knife.
Merde.
============
As always, please spread the love by visiting Six Sentence Sunday to find the list of this week's other participants.