Six Sentence Sunday: Flight #13 Something Stirred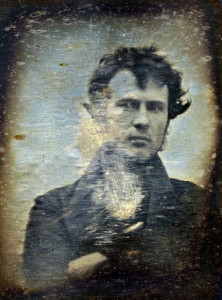 Welcome back for another Six Sentence Sunday post from Flight.
Last week we left Bartholomew in contemplation in Matilde's room as she and her little brother slept. Today's post is a direct continuation.
======
He opened his eyes and sighed.
Matilde echoed his sigh in her sleep and her breath caressed his face.
Something stirred within him. Bartholomew stood and stepped back. He stared at her, swallowed, then paced the room. And as he paced one thought ran through his mind, again and again: By any means necessary.
======
Please hop over to Six Sentence Sunday for a list of other writers posting six sentence snippets.
======
A lot of people asked about the Catcher from last week's post. Here's the quick and dirty about her: The Catcher is an immortal soul tasked with catching a group of evil souls before they bring about the Apocalypse.
And today's photo credit: Shorpy.com/Robert-Cornelius -- This daguerreotype is one of the earliest known self-portraits.