Six Sentence Sunday: Flight #6 Elle?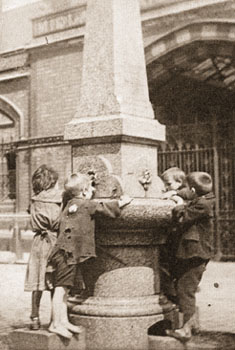 Welcome back to the next six from my paranormal short, Flight, for Six Sentence Sunday.
We left Bartholomew on a rooftop in 1840s New York, watching a confrontation among children unfold in an alley below.
If you're visiting for the first time, you can find the beginning of this story here.
And please remember to visit Six Sentence Sunday for more exciting snippets from other participating writers.
------
"Gimme that." The older girl's voice bounced off the grimy alley walls as she stepped forward from the two boys.
Bartholomew surveyed her black eye and ratty, pink dress, the sneer that curled her lips back from her broken front teeth, and he glanced at the crows. The Catcher wanted her?
But the birds squabbled and preened and minced about the roof. They called insults at him, arching and flapping their wings then chortling as if sharing a good laugh at his expense.
------
A note about today's photo. This is a group of street children in 1919 London. It's taken from Hidden Lives, an amazing archive detailing the efforts of London's Waifs and Strays' Society to alleviate child poverty in the late-Victorian and Edwardian eras.