Six Sentence Sunday: Girl Under Glass #1 -- The First Sign of Trouble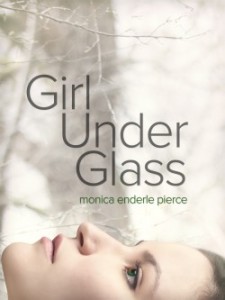 Hello, friends, and welcome back for another Six Sentence Sunday. I'm gonna take a little break from First Comes Famine to introduce (or re-introduce for some of you) Girl Under Glass. This book is romantic dystopian/sci-fi and will be released this month. It is a 2012 Amazon Breakthrough Novel Award semi-finalist, and you can read its blurb here. So, starting from the beginning, I'd like you to meet Terran medic, Rachel Pryne, her seven-year-old daughter, Pearl, and their dogs, Jack and Audie:
========
The dogs growled.
I glanced to where they sat beside the fireplace with their heads lifted and ears pricked. "Jack, Audie, what is it?" Listening, I heard only rain drumming on our metal roof, so I shrugged and turned back to the stove. Plucking a scalpel from the boiling water with tongs, I placed it in the sterile box and blinked steam from my eyes as I chased a needle around the pot. "Dang it."
========
Now that you've read this, please take a moment to visit the official Six Sentence Sunday site for links to more awesome sixes.
========