Six Sentence Sunday: Girl Under Glass #2 -- What's Out There?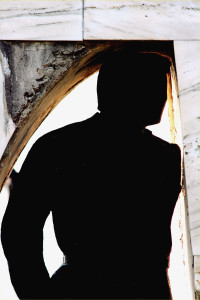 Hola, and welcome back for another Six Sentence Sunday post. I'm knee-deep in html and ebook formatting this week, so forgive me if I seem a bit addled.
Thanks for all the encouraging comments on last week's opening six from Girl Under Glass. Here are the next six from that novel.
Last week, Rachel's dogs heard something outside her little cabin. Do you think it's gone?
========
Then the dogs lunged toward the door.
Pearl stiffened at the table, her doll's clothes forgotten. Wide-eyed and watching me, my seven-year-old daughter knew better than to make a sound as Jack and Audie growled and paced.
I wiped my hands and grabbed the shotgun from the kitchen wall mount. At the door, I pulled up the peephole rag and scanned the yard.
A man stood by our fence—a dark man.
========
Boo! Did I scare ya? :D
No? Well, high-tail it over to the official Six Sunday site for links to lots of other sixers' snippets. There's good stuff to be read, and maybe one of them will scare the bejeezus outta ya.