Six Sentence Sunday: Girl Under Glass #4 -- Confrontation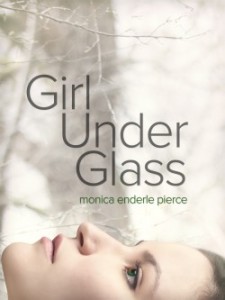 Welcome back, Sixers! We're continuing this week's Six Sentence Sunday snippet with Girl Under Glass and the beginning of the confrontation between Rachel and the Stranger who appeared in her yard. (A reminder that Jack and Audie are Rachel's dogs.) Note: The always awesome K.E. Saxon asked about this book's title last week. Girl Under Glass alludes to the fact that Rachel is part of an ongoing genetic experiment being conducted by the Ohnenrai, Earth's alien conquerors. She often feels like she's under a microscope or inside a petri dish. Thanks for asking, K.E.!
========
[The dogs] flanked me, all hackles and teeth and threats, as I crossed the porch and strode through the rain and mud, the shotgun wedged against my shoulder.
He wore the gray-and-green fatigues of an Ohnenrai field tech.
"Don't you move." I leveled the gun at his chest as I came across the yard.
He raised his arms, and his gaze traveled from the gun to Jack and Audie. "I'm not here to hurt you."
========
Me'thinks he's gonna have to do some quick explaining to convince Rachel and the dogs.
========
Please take the time to hop over to the official Six Sentence Sunday site and check out all the other Sunday snippets on tap.