Six Sentence Sunday: Lost to Darkness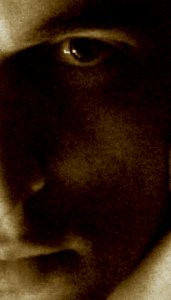 Hi Sixers, welcome back. Thanks for visiting and leaving such lovely comments last week. Continuing with Girl Under Glass and a little more of the conversation between Rachel and Ehtishem about his people's presence on Earth. (If you've missed the previous snippets, they're here, here, and here.)
------
An owl whoo-whoo'd and the wood in the fireplace sighed.
"Yet you do to us what was done to you. How can you live with yourselves?" I watched the grotesque shadows that lurked within the fireplace then looked at him. "How can you face me?"
His eyes reflected the banked fire's faint red glow; the rest of him was lost to darkness.
------
Please take the time to check out more Six Sentence Sunday posts. Lots of great snippets to intrigue, entertain, and titillate. (I just wanted to use 'titillate' in a sentence.)
Oh, and I'll be at the Surrey Int'l Writers Conf. next weekend; if any of you are attending, let me know. I'd love to meetcha!