The Glass Asylum #5: Chicken (Six Sentence Sunday)
Hello, friends! Welcome back for another Six Sentence Sunday post from my romantic sci-fi novel, The Glass Asylum. Since this is a WIP, I'm jumping around a bit. This week's excerpt is from a meeting of the Ohnenrai governing council in which they are debating forcible relocation of the Terran women who are living aboard the Ohnenrai ship. Note: Ehtishem is the Zosh (the supreme commander of the Ohnenrai); sarem means councilor.
========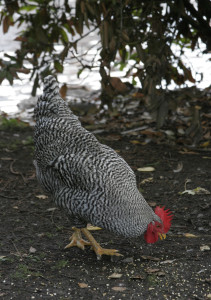 The councilor paused to consult his compad, then said, "A production rate of eight percent live, viable offspring over one twelve-month cycle is a twenty-two percent reduction from the previous period. The Zosh claims he serves the Ohnenrai, but blocking reproduction — whether by Ohnenrai or Terran surrogates — runs contrary to that claim."
Ehtishem studied the sarem. The man was tall and reedy with an unusual hooked nose and a long neck. His propensity to jerk his chin upward when making a point reminded Ehtishem of the speckled black-and-white chickens Rachel had kept on Terra. I should snap his neck.
========
Ehtishem's a wee bit grumpy.
========
Thanks for stopping by. Remember to check out the other Six Sunday participants at the official Six Sentence Sunday site.